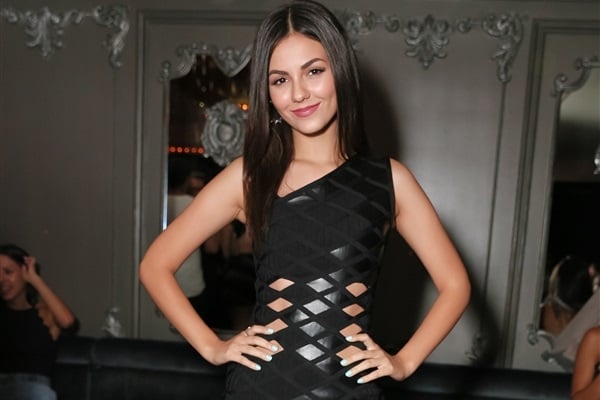 ---
Victoria Justice took a commanding lead in the race to be the biggest skank at New York Fashion Week 2015, when she showed up to two runway shows wearing tight cut-out dresses in the photos below.
Not only did Victoria brazenly flaunt her shameful feminine frame and random portions of her bare flesh in these dresses, but she also got her younger sister Madison Reed in on the act. As you can see in this photo, Victoria and Madison tag team Zionist producer Abraham Goldbergstein in the hopes of furthering their careers by sluttily pressing their tight bodies against his bloated uber-Jew gut as he greedily paws at their waists (no doubt looking for pockets to dig in for loose change).
Yes this is certainly a sickening display from Victoria Justice. For to whore one's own younger sister to further one's career is deplorable, as the Qur'an is very clear that one must do as I did and only whore a younger sister for financial gain. In my case it was to a group of generous Saudi men in exchange for a lovely camel hair blanket, which I still have and look on fondly to this day I might add.