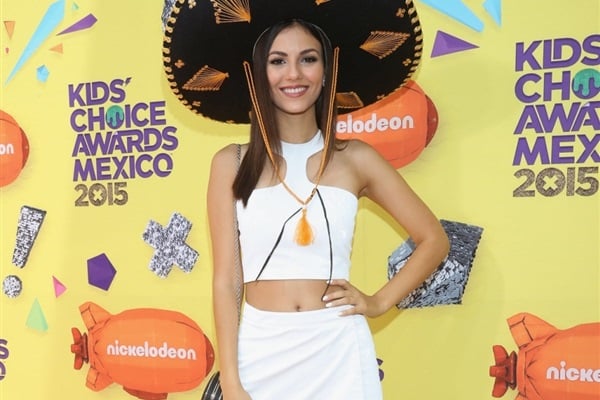 ---
While her former Nickelodeon castmate Ariana Grande continues to become one of the biggest pop stars in the world, and her young Hollywood contemporaries were in Los Angeles attending the "Teen Choice Awards", Victoria Justice was down in Mexico making an appearance at the "Kids' Choice Awards Mexico".
As you can see in the photos below, this is clearly a low point for Victoria Justice's career in the entertainment industry, as it doesn't get much worse than showing up at an award show for children in a third world shithole of a country like Mexico. In fact Victoria might as well start blowing "el burros" now as this appearance is a short stop from the donkey shows in Tijuana (both metaphorically and physically).
Showbiz is a cruel mistress, and it has clearly chewed up and spit out Victoria Justice. Obviously Victoria has made some poor decisions with her career to get to this point, and none of them were worse than not joining a Muslim's harem when she was still young and fresh. However, us Muslims are not without compassion and so we will still allow Victoria to put her life to good use by either working in the Yemeni salt mines, or by wearing the martyr vest to a Israeli checkpoint. No doubt both options are preferable to the humiliation of being a fixture on the Mexican award show circuit.