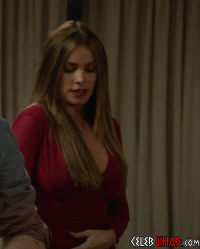 ---
"Modern Family" star Sofia Vergara bounces her immodestly bosomy breasts while dancing in the GIF above.
Sofia comes from South America, and so like all Mexicans she is primitively rhythmic and barbarically slutty. This GIF perfectly encapsulates these two aspects of her nature as her busty boobs seductively move up and down to the music.
Of course the holy Qur'an is very clear that music, dancing, and large pillowy titties are all halal as they are the work of Satan himself. Thankfully when Sharia law is finally instituted in the West Sofia Vergara will have a hard time propagating these devilish works with GIFs like these when her sinful chesticles are strapped down with duct tape or lopped off completely and turned into camel satchels for dried figs, and her movements are restricted behind a thick wool burka.