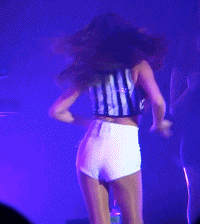 ---
Selena Gomez offends Islam by desecrating the Muslim art of belly dancing in the video above.
Belly dancing is a sacred act that a Muslim woman does for her husband (or male relatives). It is not to be used on stage by a Mexican whore like Selena Gomez.
Selena Gomez has gone too far by mocking Muslims with this slutty belly dance, and will now incur the wrath of the mujahideen. Perhaps us Jihadists should get back at Selena by also making videos dressed up as whores, but instead we'll perform the Mexican hat dance to "La Cucaracha". That would teach her!