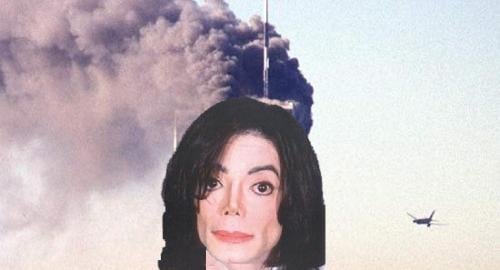 ---
Fans still reeling from the shocking events of last Thursday have been shaken by the news that a second plane has just hit Michael Jackson.
The aircraft, an American Airlines Boeing 737 struck the LA County Coroner's vehicle carrying the body of the deceased superstar, en route to the Jackson family home. First reports suggest that the plane, AA Flight 83 bound for Las Vegas, Nevada, lost contact with ground control within seconds of leaving LAX at 4.28pm.
The only subsequent communication received, seconds before the impact, was of an hysterical male voice screaming "Glory to the name of Allah! Revenge on the infidel Jackson for the blasphemy that was 'Invincible"! Get my 72 virgins ready – I'm gonna get my freak on!"
On hearing of the latest tragedy, hysterical Jackson fans encamped at the singer's Neverland Ranch were shocked once again into spouting inane cliches and platitudes. "This is the day the music died again, just like it died last Thursday, only it wasn't really totally dead then, but it sure is now. But it will live on as long as it is not dead." sobbed Lavisha Washington of Butte, Montana who has been keeping vigil at the gates of Neverland since 1992, just in case Michael died suddenly.
Shortly after news of the incident broke, Jackson's father Joe paused from thrashing daughters Janet and LaToya to release this statement; "I ain't surprised. That's what that boy gets for playin' glove puppets with those little white children." A visibly moved Jackson then added "My record label is releasing videotapes using Blu Ray technology, or somethin'. I also have a website kinda thang."