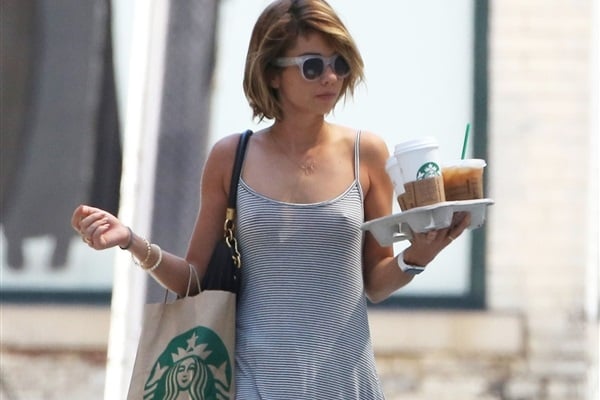 ---
"Modern Family" star Sarah Hyland shows off her hard nipples while out braless in a summer dress in the disturbing photos below.
I don't know how much Starbucks paid Sarah to nip out next to their products like this, but it was certainly money NOT well spent, for not only will us Muslims now get our soy mocha frappuccinos with extra whipped cream from somewhere else, but we have issued a fatwa against the franchise for promoting sinful female sexual arousal with their drinks.
Yes after seeing these braless photos there is no denying that Starbucks is sponsoring Sarah Hyland's perky Shebrew titties. Unless Starbucks agrees to change their corporate policy to mandate that their employees throw scolding hot coffee in the face of Sarah Hyland and any other erect nipple sun dress wearing whore in their establishment, they will continue to feel Islam's righteous wrath.