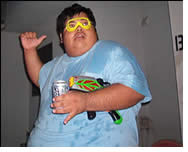 Two years after launching his celebrity blog perezrichie.com, local overweight homosexual Perez Richie has been unable to find much of an audience.
Richie, a semi-literate immigrant from Guatemala, has been attempting to piggyback the success of his hero, Perez Hilton, but has thus far been unable to even remotely rival perezhilton.com, as evidenced by his Alexa traffic rank of 24,578,785.
Though there are countless reasons for Richie's failure, he is unable to see any of them.
"It not fair my site make no money," whined Richie. "I fat, I gay, I have internet. Why I can't be rich like Perez?"
New Media experts point to Richie's home base in Oklahoma City versus Hilton's roots in Los Angeles as one reason for his inability to gain traction online.
"On one hand you have a person who is connected within the business, in the center of everything and who updates his site multiple times a day," said Kathy Martin of Digicom Media. "On the other you have an individual who, aside from barely speaking English, is completely out of touch with celebrity gossip, updates his site less than once a month and, on the occasions when there is a new posting, it's usually ripped out of last year's headlines. It should come as no surprise to Richie that his site is such a colossal failure."
With recent unreadable headline stories such as "Britney Does Oops Again" and "Taco Bell Chi-wa-wa Quiero Fancy Feast Cat", Richie seems destined to continue his unsuccessful attempts at becoming a celebrity blogger. However, he has indicated that he will continue on with his occasional postings until the day that he can no longer afford the $6.99 renewal fee for his domain name.
"I keep going for my dream even after I wake up," said Richie. "My dream all I have left, besides my Type II diabetes. Doctor say I have that forever."