One of Oprah's favorite books has turned out to be a fraud (again). What are some of the major inaccuracies in Herman Rosenblat's now discredited Holocaust-era romance, Angel at the Fence?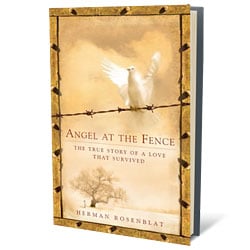 10. The no-holds-barred football game between the prison guards and a rag-tag group of inmates.
9. Rosenblat's jive-talking African-American sidekick, Detroit Jones.
8. The insistence that his future wife sustained him by tossing only delicious Mott's brand Apple-Cinnamon Fun Packs over the fence.
7. Rosenblat's claim that he did Hitler's taxes in exchange for a new prison library and some beer for his fellow inmates.
6. The constant misspelling of the word "Hon-ik-a."
5. Rosenblat's repeated boasting that he "shtupped" a young Elizabeth Taylor after the camp's annual Springtime Ball.
4. The fact Angel at the Fence is actually a reference to Rosenblat's reported visions of Androstene-fueled spirits roaming the outfield of the Tel Aviv Angels of Anaheim baseball stadium.
3. The constant depiction of Rosenblat as a Christ figure; particularly during the scene where, on a dare, he eats fifty pieces of bacon.
2. Rosenblat's claim that while in the camp he was bunkmates with hall-of-fame pitcher Sandy Koufax.
1. The climactic scene where Roseblat and his wife escape death by keeping their eyes firmly shut as the camp commandant opens the Arc of the Covenant.