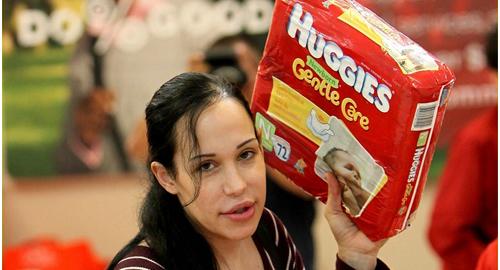 ---
"Octomom" Nadya Suleman and her 14 children have agreed to film a reality-TV show, and CelebJihad has obtained a leaked list of possible show titles. What's your favorite?

Whole Bunch'a Bastards
Just the Ten of Us…Without the Birth Defects
Nadya Suleman's Postpartum Pool Party
The "Maybe Pat Buchanan Was Right About That Whole Culture War Thing" Show
Hotdog Hallway
Welfare St-Eight
America's Next Top Child Star…to Overdose on Speedballs Outside the Viper Room
Survivor: Infanticide Island
Kids Say the Darndest Things…to the Department of Children and Family Services
Whore Knows Best
Everybody Hates Nadia
Are You Smarter Than a Third-Grade Educated, Attention Starved, System-Draining, Two-Bit Whore?
King of Queefs
Roseanne
Eight is Enough…to Make My Vagina Look Like a Gym Bag Full of Elephant Trunks
Have a better title? Register, and leave it in the comment section. The best title will win a CelebJihad t-shirt. The winner will be announced on Monday, August 3rd.
---
Special thanks to contributors Mike Hatton, Sam Mechling, Eric Filipkowski, Jon Mitchel and Chad Zumock.