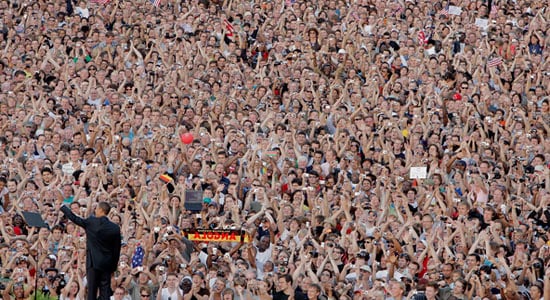 ---
Berlin (CelebJihad.com) – More than 200,000 descendants of the Third Reich lined the streets of Berlin yesterday hoping to catch a glimpse of Democratic presidential candidate Barack Obama. The awe-struck crowd, desperately trying to alleviate its collective guilt by listening to a black man speak, seemed completely enthralled by the highly charismatic leader.
"Here I stand, the son of a Kenyan goat herder, before you, the sons and daughters of those who perpetuated one of the worst acts of genocide in the history of mankind," Obama said to the mesmerized crowd.
"And I bring to you a simple, easily chant-able, slogan; yes we can!"
Upon hearing the slogan, the transfixed crowd immediately began repeating it unison until Obama signaled for quiet with his outstretched right hand.
In his 30-minute address, Obama did not overtly criticize President George W. Bush or his presumptive Republican opponent, Senator John McCain, but he did offer a gentle dose of criticism of his own nation.
"I know my country has not perfected itself," said Obama, who apparently forgot that he was addressing Germans, the people responsible for World War I (20 Million dead), World War II (72 Million dead), and the band Rammstein.
"We've made our share of mistakes, and there are times when our actions around the world have not lived up to our best intentions," added Obama, who somehow managed to keep a straight face while pandering to the Jew-hating Kraut bastards.
Despite jams at the entrances and poor reception at the back of the crowd, most of the fascist offspring appeared to be highly impressed with Obama.
"He's cosmopolitan, not only American," said Bruna Hoffman, a student of international relations from Berlin whose grandfather served in the Waffen S.S. and personally shot 53 men, women and children while occupying Distomo, Greece, in June of 1944. "He's a world citizen."
After the speech, as night fell on the capital, the crowd, armed with lit torches supplied by Obama's field staff, goose stepped with clocklike precision to Obama's hotel. Once in place, the crowd used their torches to spelled out "ja, wir können" as a stone-faced Obama looked on from his balcony.
Manfred Straus, 65, who drove all the way from Austria to attend the rally, said the event brought back memories of the Rev. Martin Luther King Jr.'s quieter visit to East Berlin in 1964, when he was a student.
"I thought, here is someone coming from the same place," he said.
Added Straus, "Well, I'd better get going since I keep my daughter hidden in a secret dungeon beneath my garage, and I want to get back in time to rape her before my wife gets home from work."
Obama travels to France on Friday.