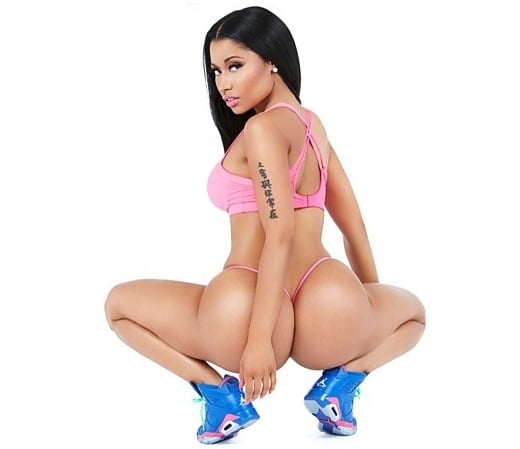 ---
Rapper Nicki Minaj squats down her enormous ass while in a tiny pink g-string in the photo above from the cover of her new album "Anaconda".
What a complete and utter travesty it is that Nicki Minaj's she-boon bulbous backside is not being put to good use in the fields pulling the plow for us Muslim men. Why I bet with a piece of fried chicken on the end of a stick for motivation, and some vigorous use of the whip Nicki Minaj could till 50 hectares of tough soil in a single day with her powerful rump.
Of course in the degenerate West such a fine piece of livestock like Nicki Minaj is squandered on selling sex to the depraved masses with g-string album covers like this "Anaconda" one. The irony of this is that no infidel man has an "anaconda" big enough to make it through Nicki Minaj's thick booty meat, but if she were to fulfill her destiny as a piece of farm equipment in the Middle East us Muslim men are more than equipped to properly satisfy her primitive sexual desires.