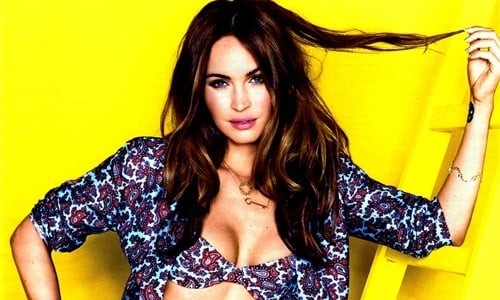 ---
Like a phoenix from the ashes, Megan Fox has resurrected her career with a starring role in a new movie, and is now starting her campaign to reclaim her place as the sexiest woman in the (Western) world with these photos below from the new issue of Cosmo.
We thought we had heard the last from Megan Fox when her acting career fizzled out a couple of years ago, and she started shitting out kids for that rapping Jew from 90210. However, like a case of antibiotic resistant gonorrhea Megan Fox has proven difficult to expunge from the loins of pop culture.
For despite being a vapid whore with absolutely no acting talent Megan Fox is again starring in a soon to be hit summer blockbuster ("Teenage Mutant Ninja Turtles"), and appearing on the cover of Cosmo magazine. Which just goes to show you that in heathen Hollywood your career is never over as long as you have a good plastic surgeon, and are sucking producer Michael Bay's c*ck.