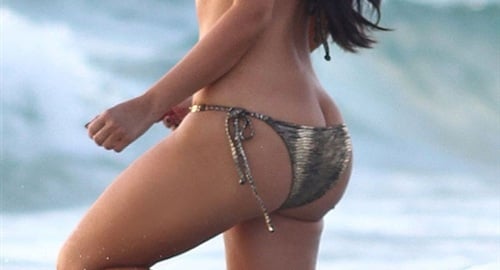 ---
Kim Kardashian is such a silly head! She wore a bikini bottom that was 6 sizes to small for her, and accidentally flashed her enormous ass for all the world to see.
Poor Kim, she must be so embarrassed, she just can not catch a break. First she had that sex tape leak that made her famous and allows her to live a life of extreme luxury and leisure, and now something like this happens.
Kim Kardashian totally does not want to be seen as a porn star, and she must curse fate everyday for all these sexy misfortunes happening to her. If only she had noticed that her bikini bottom only covered 1/3 of her booty this crisis could have been avoided! And if only she had known that a perverted R&B singer could not be trusted with a sex tape she could still be the unknown Paris Hilton leech that she started out as.
Alas it is not to be for poor Kim and I have a feeling these little sexual "mishaps" will continue. So fellas enjoy these pics of Kim Kardashian's thick ass, there will surely be more were this came from.