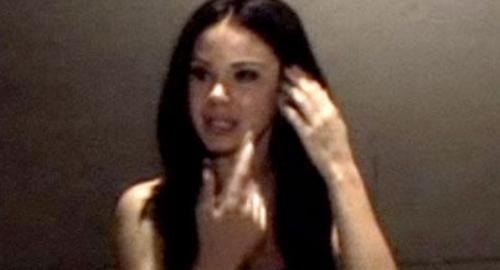 ---
Girls Gone Wild founder and tremendous douchebag Joe Francis took hitting on the ladies to the next level last night when he beat up fellow douchebag Brody Jenner's girlfriend, Playboy Playmate Jayde Nicole.
According to Jayde Nicole, Francis was hitting on and harassing one of her girl friends so she did what any sane person would do, she threw her drink in his face. That's when Joe punched Jayde in the face, threw her to the ground by her hair, and kicked her in the ribs. Apparently Jayde's friend tried to come to her defense and she got punched too.
Joe Francis then fleed from the club. Brody claims to have chased him, but was tasered by some mystery person (yeah right wuss).
Being the man that Brody is though he didn't let the tasing stop him from talking smack on Twitter about the incident saying, "Joe Francis beat up my lady this morning for no reason! Pulled her to the ground, punched & kicked her..what does that say about him. How can you call yourself a man when you beat up a girl?? Joe Francis is a piece of sh*t. Joe Francis needs to be in jail!!!"
Notice the extra exclamation points at the end he obviously means business!!!
Police are looking for Joe Francis to question him about the assault. Hopefully they can find him before he hangs himself in a hotel room in Canada.