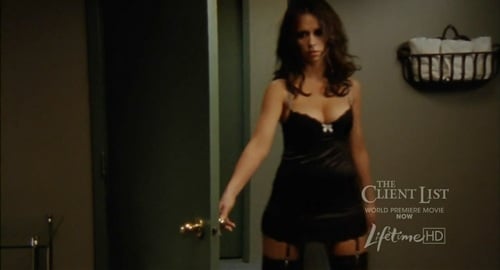 ---
There have been amazing breakthroughs in science over the past few decades like supermarket humus, the burka, and of course martyr vests, but they all pale in comparison to Jennifer Love Hewitt in lingerie looking sexy again.
Once one of Hollywood's hottest POAs, over the past few years Jennifer Love Hewitt has been nothing short of a frumpy eyesore. Her once taut body became a doughy pear shaped mess, and her adorable face started looking like a well used catcher's mitt.
However, somehow scientists at the Lifetime network were able to turn back the hands of time and make Jennifer Love Hewitt sexy again in this lingerie scene from her new movie "The Client List" (which is no doubt a movie about whoring). Who these whiz kids are behind this amazing transformation I do not know, but they are nothing short of miracle workers.
So enjoy these completely unexpected pictures of Jennifer Love Hewitt looking sexy while wearing lingerie, for I don't know how long this science will last.