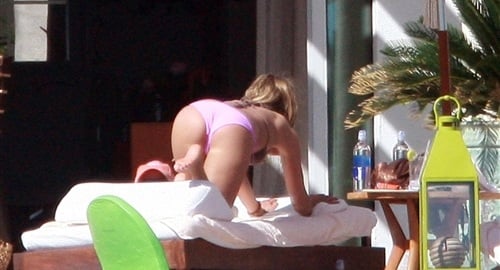 ---
Desperate toss aside Jennifer Aniston was in Cancun looking hot as hell in a bikini. Is there nothing Jennifer Aniston won't do to win Brad Pitt back? I mean looking sexy in a bikini is an obvious ploy by Aniston to get Pitt's attention.
Notice how she crawls around with her ass up in the air. That is obviously for Brad's benefit. With this bikini Jen is basically saying "Hey I've never had kid's because my ovaries are barren, so I'm still super tight. Come back to me Brad!"
I don't know if these bikini pics will be enough to win Brad back from Angelina because Angelina has a rocking body as well, and most likely is much freakier in bed. Aniston is going to have to step her game up with a highly publicized lesbian midget f*ck fest if she wants to get Brad's attention again. Until then enjoy these pics of Jennifer Aniston in a bikini.