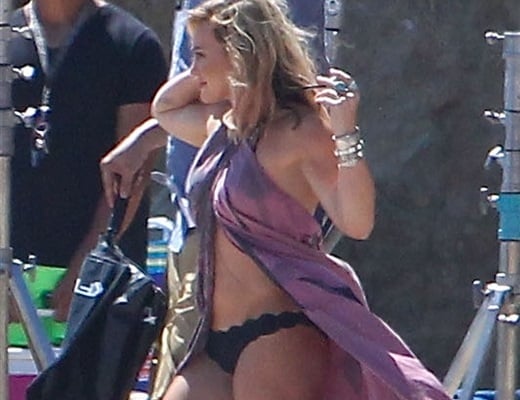 ---
Former Disney star Hilary Duff wears a small black bikini on the set of her new music video in the photos below.
A few months ago Hilary Duff tried to regain the limelight by announcing that she was leaving her husband NHL star Mike Comrie. However, when no gave a baker's f*ck Hilary quickly reconciled with him, and she is now trying the age old strategy of prostituting her body to win the infidel public's attention.
Unfortunately for Hilary Duff her best years are well behind her, and her time in the spotlight is clearly over as there are now many younger and more interesting former Disney stars (Selena Gomez, Miley Cyrus, and Debby Ryan) whoring themselves for attention.
However, all is not lost for Hilary Duff. After seeing her sturdy legs and moderately toned ass in these bikini pictures, I'd certainly hire her to pull my cart full of goods to market and compensate her generously with a vigorous sodomizing once the job was done.