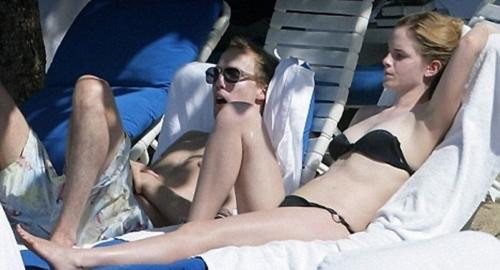 ---
Emma Watson is on vacation on some tropical island with a man that is not her husband. This is not surprising since after appearing in all those Harry Potter movies she has become a devout Satanist.
There are 3 things all Satanists love; warm weather, black bikinis, and premarital sex. Emma Watson appears to be indulging in all three.
Notice how after days of laying out in the sun Emma Watson's body is still ghostly pale. You might think that is because she is English, but the real reason is that she has no soul. Allah in his infinite wisdom designed souls to turn brown when they are out in the sun, so in case us God fearing Muslims ever have to do manual labor we will blend in with the day laboring Mexicans.