---
Above is a sex tape video featuring porn star Christy Mack and her MMA fighter boyfriend "War Machine". Christy and War Machine recently made headlines when War Machine caught Christy having sex with another man in front of a camera crew, and he beat her within an inch of her life.
Of course the liberal Western media made a big deal about this (like they've never beaten the crap out of a whore before), and demanded that War Machine be arrested. Which he unjustly was a few days later.
Even though I am an extremely pious Muslim man I do have a vice, and like most Muslim men that vice is that I really enjoy seeing a slutty woman getting beaten. So imagine my disappointment when after lighting some candles and breaking out the goat milk cream lotion, I searched the Internet for "War Machine bangs Christy Mack" and "War Machine pounds Christy Mack", and the only thing I could find was this sex tape video.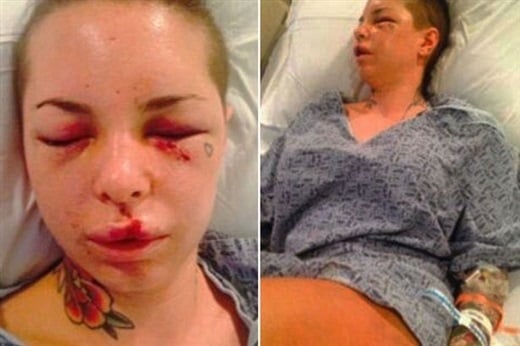 Thankfully there are still the aftermath photos (like the one above) to get off too, but a video is always so much nicer. Next time I need a release I guess I'll have to use the beheading video of US journalist Jim Foley our ISIL brothers just posted.