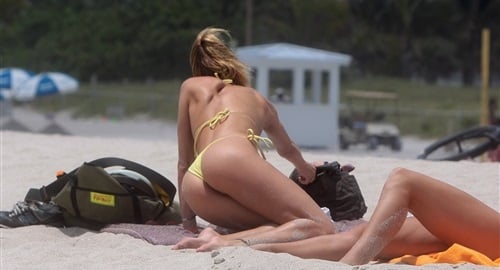 ---
Victoria Secret model Candice Swanepoel shows off her body in a thong bikini in the pictures below.
Clearly Candice Swanepoel is displaying her wares in this thong bikini with the hope that she will be purchased as a concubine by a virile Muslim man.
Unfortunately for Candice Swanepoel there is little to like about these thong bikini pics, as her body is severely lacking in sexy pubic hair, and her flat dumpy ass would not be able to handle the impressive size of a Muslim's manhood.
Add to that the fact that Candice Swanepoel's body appears malnourished and thus unfit for field work, and she is likely to fetch only a few dinars when she is auctioned at market later this month.