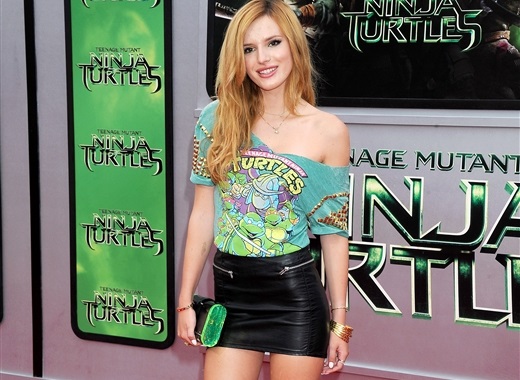 ---
16-year-old actress Bella Thorne stole the show in hooker heels and a tight leather mini skirt at the "Teenage Mutant Ninja Turtles" premiere in Hollywood yesterday.
As you can see in the photos below, Bella Thorne's round nubile hindquarters in this tight leather skirt fit the occasion, as they perfectly imitate the shell of a turtle. Of course what is inside Bella's lady shell is far more slimy and leathery than any turtle, but that is to be expected from a former Disney star.
By dressing like a complete whore and stealing the show on the red carpet at a major Hollywood premiere (of a movie she is not even in), Bella Thorne has shown that she is destined for great things in the degenerate Western entertainment industry. One shutters to think what sort of depraved acts Bella will commit on the red carpet when she finally gets a movie of her own. However, based on the photos below it will probably involve her ass, and require the custodial staff to lay down some plastic sheeting.