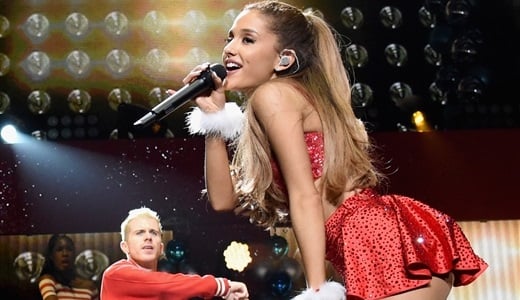 ---
Ariana Grande desecrates the Christmas season by flaunting her tiny tight ass in the naughty upskirt photos below from her Jingle Ball 2014 performance in Los Angeles.
Clearly Santa is going to be leaving Ariana a big lump of coal in her stocking this Christmas. Of course that is going to be fine with her, because as everyone knows Ariana Grande is dating rapper "Big Sean" and is thus coal burner whore.
Yes as a mudshark Ariana Grande is permanently on Santa's naughty list. The fact that she also sexualizes the most holy Christian holiday by prancing around on stage sticking her ass out while dressed like a Christmas slut, simply moves her to the top of that list. If Old Saint Nick was righteous like us Muslims, he'd make an example out of Ariana by bouncing the lump of coal off of her head, stuffing her up the chimney, and then dragging her unconscious body behind his sleigh while pronouncing to all that she is a "Hoe! Hoe! Hoe!".