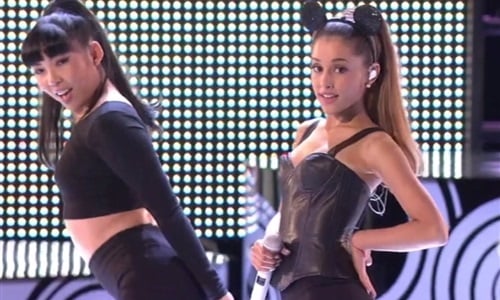 ---
As you can see in the photos below, Ariana Grande thrilled the infidel children at the Radio Disney Music Awards by performing in a leather bustier, tights, and Mickey Mouse ears.
The underage crowd went wild as Ariana Grande provocatively pranced around on stage in this completely appropriate leather top. Little Tommy Haskill age 7 of Barnhill, OH was particularly pleased by the performance posting this review to his Facebook page "Damn Ariana looking fit as f*ck. I wouldn't mind playing Doc McStuffins with dat ass"
Of course Ariana Grande has had a long career of selling sex to kids, as she starred on two hit children's TV shows on Nickelodeon. One can only imagine the extreme depravity Ariana has in store for us once she starts focusing her attention on entertaining adults.