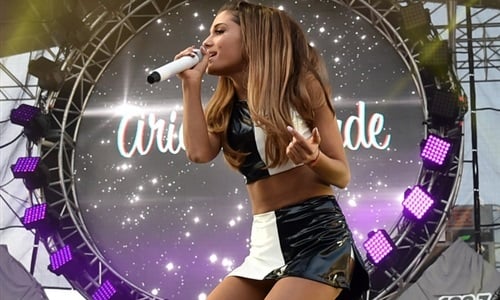 ---
Ariana Grande shows off her bare midriff in a crop top, and tight ass in a black and white leather mini skirt and high heel boots while in concert in the photos below.
Obviously this scandalous outfit is part of Ariana Grande's new "grown-up" look, as she has begun the transition from subtly selling sex to kids on Nickelodeon to blatantly selling it to adults everywhere else.
Unfortunately for Ariana just showing her stomach and a couple glimpses up her skirt is not going to cut it in today's music industry. If she is serious about making it to the big time then she is going to have up her game, and take a page from the likes of Lady Gaga, Rihanna, or even Miley and really start whoring herself on stage.
Infidel culture is a race to the bottom. If Ariana Grande wants to make it she better grab a shovel, start digging, and make sure she gets really dirty.