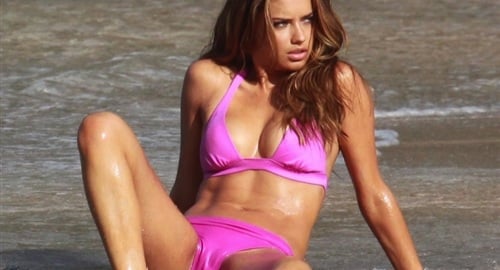 ---
I use to think Adriana Lima was a woman of virtue. She famously kept her vow to maintain her maidenhead until her weeding night which is extremely admirable in the Western world in this day and age.
However, now that she has taken her proper place at the heel of a man, I can not help but feel disappointed that Adriana is still taking pornographic pictures for Victoria's Secret.
I regret that Adriana Lima was not married off to a strong Muslim man, perhaps a chieftain of a respectable clan. Because any self-respecting Muslim man would have put an end to Adriana's silly little modeling career long ago.
As the pictures below clearly show Adriana Lima is without proper male guidance. The fact that she takes the term "bikini spread" literal by spreading eagle in a bikini shows she is ill-equipped to battle the silver tongued Zionist photographers who wish to defile her previously virtuous womb. I fear for her soul.